U-Joints, Bolts & Caps
U-JOINTS

When it comes to Universal Joints, the Spicer 1350 series has become the standard for virtually all drag racing and NASCAR applications. That said, given the tremendous shock loads generated by more powerful engines, the "stock" u-joints are subject to breakage. To provide racers with the required upgrades, MW developed a series of transmission and differential yokes that utilize 1350 series joints. MW has also developed transmission and differential yokes for use with 1480 series universal joints to suite heavier-duty Pro Mod and similar applications.


(Different Type U-Joints)
U-JOINT ATTACHMENT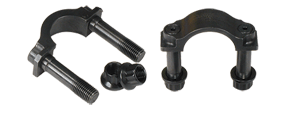 Attaching U-joints to the pinion yoke typically involves using a Spicer 1350-series U-bolt kit, but recently MW's engineering team developed a nifty billet steel cap assembly. Through encapsulating the U-joint cap, it keeps it more securely attached to the differential companion flange —which significantly improves overall driveline reliability, especially when it's subject to load cycling. They can be retrofitted to any current style MW pinion yoke. As similar cap is available for our 1480 series pinion yokes.

© 2018, Mark Williams Enterprises Inc.