Bearings - Bigger is Better
One of the most important aspects of employing aftermarket axles is the ability to replace OEM axle bearings with larger heavy-duty components. The bearings, after all, are subjected to tremendous forces during acceleration as the axle is essentially trying to "twist" its way out of the housing, and larger bearings also serve to prevent flange loss.

A stock 12-bolt Chevy uses a 1.400" i.d. bearing, while the small Ford is 1.378". Both of those sizes are too small for racing purposes. The large Ford bearing has a 1.562" i.d. and a 3.150" o.d. This is satisfactory for mid-range performance applications, and is the bearing size used with Mark Williams' economical MasterLine axles.

For many racing applications M-W uses bearings with a 3.150" o.d. and a 45mm (1.772") i.d., which allows the bearing shoulder on the axle to be larger and stronger. Through use of these 45mm bearings, Mark Williams Hi-Torque 35 & 40 spline axles can be used with many OEM style housings. Mark Williams Enterprises also produces many special housing ends that can facilitate the use of larger axle bearings while still retaining OEM brake systems.

Speaking of housing ends, the use of stock axles with C-clips is forbidden in class competition. M-W manufactures C-clip Eliminator Kits for many GM and Ford applications. They provide the necessary positive bearing retention required by racing rules, and also facilitate use of aftermarket axles.

And there's more. For really heavy-duty applications you can get beefy 3.347" o.d. bearings with 45mm bores, which have larger diameter ball bearings and thicker races than their smaller counterparts. Moreover, there are also variances in widths, so take note whether "narrow" (single row of ball bearings) or "wide" (double row) bearings are employed. Special heavy-duty bearings with ceramic balls are also available.

Many Pro Stock racers go a step further, relying on the Evolution-4.1™ axle system developed by Mark Williams. They feature special self-aligning bearings that have several times the load capacity of conventional designs, and can accommodate axle movement associated with housing flex without frictional resistance from binding bearings, which in turn eliminates bearing "walk off."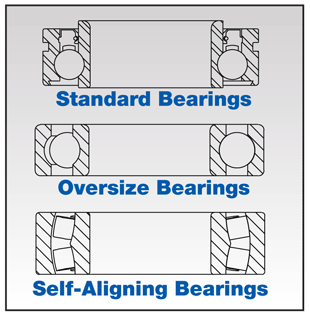 You should also be aware of the fact that all of these setups are designed for straight-line drag racing applications. For street use, where side loading the bearings is commonplace, M-W offers a tapered roller bearing setup that far exceeds the radial capacity of OEM ball and roller bearings, plus can take thrust in either direction.
Getting the best possible axle bearings for your application will pay dividends in performance and dependability.


© 2018, Mark Williams Enterprises Inc.