Brake Rotors- What's the Best Material to Use?
When it comes to selecting the optimum type of disc brake to employ there are a number of factors to contend with. Also, most drag cars use 16" or 15" diameter front and rear wheels and the brakes must fit within this envelope.

For any vehicle that's driven on the street and subject to stop-and-go driving, keeping the rotor cool is an important function. As such, big vented cast iron rotors are primarily used. The cast iron rotors made by Mark Williams Enterprises are .810"s thick, which is some about 2.5-times beefier than M-Ws steel rotors. They're excellent for street/strip and bracket racing applications, but obviously quite a bit heavier than their steel and carbon fiber counterparts.

Most drag race cars should employ steel rotors, as they provide a good balance of "grab" and reduced weight compared to vented cast iron. You'll notice that Mark Williams Enterprises offers brake systems with steel rotors that are either slotted or drilled. Why is that, and which is best?

For openers, when brakes are applied it creates a layer of gas between the pad and rotor surfaces. Slotting or drilling the rotors helps evacuate this gas and promote better pad/rotor contact. Secondly, the improved ventilation from slots and holes also helps control operating temperatures and prevent warpage. Finally, the edges of machined or drilled rotors also serve to clean and "refresh" the brake pads and keep the contact surface optimized.

An important point must be made that steel rotors from various manufacturers are not equal. Mark Williams Enterprises has developed the innovative Slot-Drive™ system that is employed to attach the rotor to the hat or hub, which reduces heat transfer and helps eliminate warpage. Another key benefit of M-W rotors is that they're double disc ground to ensure that both sides are absolutely parallel. Combine this with the extra rigidity found in M-W calipers and you can see how braking efficiency is improved.

According to M-W sales personnel, the overwhelming majority of racers prefer the drilled rotors to the slotted ones because of weight considerations. Some racers prefer the slotted rotors for high stall speed foot brake cars because there's more pad contact area to help hold the car on the line, although the difference is negligible.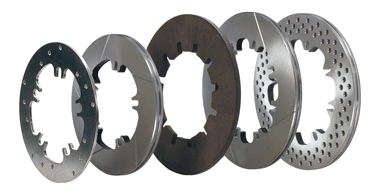 Getting back to the relative weights, an 11.75" diameter slotted rotor weighs 7 lbs., while its cross-drilled counterpart tips the scales at 6 lbs. For the sake of comparison, a vented cast iron rotor weighs 8 lbs. and a carbon fiber unit is but 2 lbs.

Carbon/carbon brakes are the ultimate for today's fastest drag cars. Originally developed for Formula 1 competition, they have transitioned into drag racing because of their ability to perform flawlessly under extreme, high heat conditions. They are also substantially lighter than steel and can save up to 10 lbs. of rotating weight (which significantly improves stopping ability, too). Note that the carbon/carbon used in brakes is different from the carbon fiber used for race car body panels. It's a composite material consisting of carbon fibre reinforcement in a matrix of graphite that is very dense and takes extensive heat, pressure and time to form.

If you're unsure which is best for you, let the experienced technicians at M-W help with your selection.



© 2018, Mark Williams Enterprises Inc.