Important Driveline Maintenance
IMPORTANT DRIVELINE MAINTENANCE
Springtime is a signal for racers in many parts of the country to get ready to hit their friendly local drag strip. That said, there are a number of inspections you should be doing to ensure that your race car is 100% safe from a driveline perspective. Here are some annual maintenance tips from the tech staff at Mark Williams Enterprises.

AXLES
Remove them and do a close visual inspection of the splines, bearings, and wheel studs. Check the splines for twist or irregular wear. Make sure the bearings are smooth and the seals and o-rings are in good shape. Examine the wheel studs for straightness —this is most important when 1/2" studs are employed. If there are any questions, it's best to send the axles back to the manufacturer. You should also have the axles magnafluxed every other year. M-W offers this as a free service, with the "catch" being that you'll need to buy new bearings (which isn't such a bad idea anyway).

DRIVESHAFTS
Perform a close visual inspection of the driveshaft for cracks and any signs of twisting. The phasing of the U-joints should be exactly parallel. Inspect the barrel of the trans yoke for any abnormal wear. A trans yoke used in a roller bearing that wasn't designed to be used in a bearing will show excessive wear and should be replaced. Check the U-joints for excessive end-play and finally make sure the u-bolts are properly tightened (18 foot lbs. of torque is recommended, do not over tighten!).

REAR END
Inspect the center section and gears. Check the ring & pinion for cracks, excessive wear, and sharp edges on the ring gear. Make sure the backlash is not excessive and the pinion nut and yoke are tight. Change the gear oil and fill to the recommended level. Mark Williams recommends using a special blend of Torco 85-140 gear oil made exclusively for Mark Williams Ent. (M-W p/n 55-0030). This oil has proven to provide exceptional gear life and is suited for both spool and limited-slip differential applications.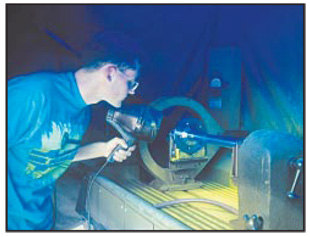 Magnafluxing axles every two years is a good idea. M-W offers this as a free service.
BRAKES
First, clean the entire system, making sure there's no brake dust on the exposed piston. Inspect the pads; if they are worn to half of the original thickness they should be replaced. Inspect all brake lines and fittings to make sure they're tight and flex lines are not being stretched or rubbing on any of the suspension.

Use a straight-edge to check the rotor for cupping or warping. Make sure the rotor attachment bolts are tight —but don't over-tighten. You should replace the fluid (DOT 4) and bleed the system. As a final check you'll want to make sure you have adequate line pressure. Mark Williams recommends a minimum of 1,000 PSI for normal operation, 1,200 PSI for emergency use. A sure-fire way to check this is to use a gauge (M-W p/n 81105) that screws into the caliper bleed port and provides an accurate reading right at the source.

Catching a problem before you hit the strip can certainly pay dividends in the long run by eliminating the residual damage that can occur from on-track breakage. With a driveline that's in good working order you'll be able to make laps with complete confidence and that's all part of winning.



© 2018, Mark Williams Enterprises Inc.