MEASURING FOR AXLES
When it comes to ordering a pair of axles for your race car there is often a lot more to it than meets the eye. The following will give some insight into the information needed to order new axles and what to expect during the ordering process.

It's important to note that each and every axle manufactured by Mark Williams Enterprises, including its economical MasterLine brand, is custom-made for the exact application. There are "racing" axles on the market that are produced in gang runs with long splines, which are merely chopped off to provide the desired overall length. This usually creates a situation where the splines are much longer than needed which make them prone to twisting. When the axle lengths are calculated correctly and axles individually produced the spline length can be optimized for the spool or differential being used.

If you're in the process of building a new car or updating an existing one and will be narrowing the rear end assembly to accommodate a large tire there are a few easy steps that will ensure a perfect fit. The preferred method is to get a set of tires and wheels the size you intend to use. Keep in mind that wheel back space is very important. Most times a 3" to 4" back space is common to provide ample clearance for easy removal at the track (too much back-spacing can be problematic if there is a limited wheel well opening).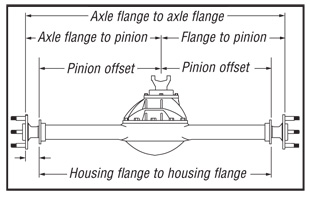 The next step would be to remove the stock rear end housing and perform any needed modifications to the inner fender wells and/or frame rails. Next, put the car on jack-stands at the intended ride height and stance. Place the tire/wheel combination into the desired position, giving yourself adequate clearance to suspension members and/or fenders. Make sure the face of the wheels are straight up and down, slide shims under the tires as needed.

With the wheels in position, measure from the mounting surface of the drivers side wheel to the mounting surface of the passenger side wheel. This will give you the proper wheel to wheel measurement. Now, subtract the thickness of any disc brake hats or drums and you will have the axle flange-to-flange dimension. You should also know that pinion offset effects axle lengths. Most tube chassised cars will have a centered pinion while cars utilizing the factory driveshaft tunnel will require the OEM pinion offset (normally offset to the passenger side) to avoid driveshaft clearance problems. Also, the axle bearing size will come into play. If you're starting from scratch, bigger is better.

When ordering new axles and a spool is going to be used it's best to get them with the largest spline possible. For most applications (excluding Pro categories) 35-spline axles are adequate. It should be noted that M-W offers spools for GM 10 & 12 bolts, 8.8 Fords and 9" Fords using a stock center section with 35 spline, the largest available for those applications. 40 spline is also available for all other applications. M-W cuts all axle splines using the hobbing process which creates a true involute profile and maintains spline concentricity, this is preferred splines that are cut individually.

If you are simply be replacing a set of existing axles you'll need to measure their length and also note the axle bearing size. Of course, with certain OEM housings you'll need to eliminate the factory C-clip setup. IHRA mandates the use of axle retention devices.

To make ordering axles easier, you can download Service Bulletin #0077 and fill in the blanks. You can also call M-W's tech advisors toll-free at 866-508-6394 for additional information.