MW 11" Housings
Designed to easily handle the power of supercharged alcohol or injected nitro engines, as well as turbocharged and nitrous oxide-boosted powerplants, Mark Williams' special 11" Modular Aluminum Housings are perfect for Funny Cars, Dragsters, Pro Mod and "Outlaw" classes.
They feature a proprietary 11" diameter ring gear and companion pinion gear manufactured exclusively for MW by Richmond Gear. Currently available ratios include 2.91, 3.20, 3.89, 4.10, 4.29 and 4.57:1. And the best news is that gear life is exceptional with MW 11" Modular Housings, thanks to its design and accurate component alignment. In fact, the Alcohol Funny Car of Snyder Motorsports (Mick Snyder, driver) has almost 500 runs on the original 11" ring & pinion. Other racers claim they used to require major maintenance on their 9" at every race and now inspect their 11" 3 or 4 times a year. Inspection is simple, just remove the rear cover. Savings in gear replacements alone can virtually pay for the unit!
For solid-mount applications Mark Williams manufactures an 11" Modular Aluminum Housing with rugged CNC-machined 7075-T6 billet aluminum mounting brackets (16" space inside-to-inside). The design allows MW floater end bells, the floater assembly, and axles to transfer up from an MW 9" Ford setup.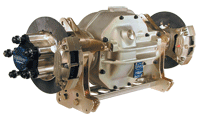 Mark Williams has two setups for 4-link applications. First, there's a Pro 4-Link Floater Assembly with billet aluminum brackets. There is also a unit with 4130 steel 4-link mounting brackets that allows for narrower 4-link ceneters. They are available in several combinations of wheel-to-wheel widths and 4-link centers.



Mark Williams has taken the most popular rear end for drag racing and street applications to the next level. Say goodbye to junkyard housings and aftermarket replicas.
Again, we must stress that the accuracy of steel housings are affected by welding on brackets, braces and housing ends. MW Modular aluminum housings are cast from an aerospace alloy that's got a tensile strength of 60,000 lbs. (30% stronger than 6061) and features reinforcing ribs. It's all CNC-machined to assure optimum alignment of the carrier, ring & pinion, spool (or differential) and axles.

For dragster and altereds MW offers both solid-mount and 4-link housing assemblies. They are available with flange-type axles in variety of widths depending on the end bells. For supercharged applications full-floater assemblies are available.
MW also manufactures 4-link assemblies with 7075 billet aluminum brackets in widths that range from 33" to 43" wheel-to-wheel. They are also available with steel-tubed bells, which can be made to the exact width desired by the builder.

Both versions have extra bracing between the 4-link brackets to assure maximum stability.
Housings are also available with steel tubes and no suspension mounts, with the builder installing them later. This makes for a very clean look for street rods and muscle cars. The aluminum center section can be polished for show applications.
There are several reasons why light weight, low power prefer the GM 12-bolt configuration when compared to the beefier 9" Ford. Because of the ring gear size and hypoid position the 12-bolt has less internal friction than the 9" Ford, which translates into a performance gain. This is especially beneficial in lower horsepower cars. The units are also lighter than the 9" Ford, with savings of 10-15 lbs. available (depending on component selection). It's also important to note that MW has made a number of design improvements to the 12-bolt, such as internal cap supports and thru-bolts that increases its reliability.

Lightweight 12-bolt housings are available for both solid-mount and 4-link suspension applications. They feature CNC-machined billet aluminum brackets and are perfect for lighter weight race cars. The 4-link centers are just 16" and ideally suited to compact designs.
MW 12-bolt Modular housings are also available with 4130 mounting brackets for dragsters (wheel-to-wheel widths ranging from 29-3/4" to 35-3/4") as well as steel-tubed housings for door cars. They can be made in any desired width from 28" to 60" wheel-to-wheel.