The question pops up all the time; "Why are modular aluminum rear end housings better than OEM-type stamped steel 9" housings or fabricated steel housings?" It's certainly a valid question, given that costs typically enter the equation.

Let's look at the "pros" and "cons" of each. The strong suit of a factory housing is its cost. Given that the 9" Ford rear end came in 1957-73 passenger cars and 1957-87 light trucks, you can probably find a "donor" housing in many wrecking yards. Mark Williams Enterprises manufactures a wide variety of weld-on housing end kits that facilitate narrowing the housing and adapting a number of disc brake options. However, even with the use of an alignment tool, there is always the factor of warpage to contend with. A rear end housing that is not perfectly aligned can cause premature gear wear and a loss of performance potential. Moreover, stock type housings (even when braced) have shown to have deflection ("bowing") under hard acceleration in more powerful applications.

Fabricated steel housings are typically more rigid than OEM (and aftermarket) stampings, and are often favored by builders who like to showcase their skills. However, they are still made of welded steel plates and tubes and subject to alignment issues.

Mark Williams Enterprises developed the industry's first modular aluminum housing for 9" Ford applications over 20 years ago, and since then made subtle improvements to the point where today's highly refined unit is so good that it's now being employed by "name" Pro Stock racers.

The primary benefit of M-W's modular aluminum housing is that all components are CNC machined to exacting tolerances. And when fully assembled, the unit is aligned to within .002", assuring optimum efficiency. As a result of this, ring & pinion life is also improved. Probably the most graphic example of this comes with M-W's exclusive 11" model (which shares many components with the 9" unit) where Pro Mods and Alcohol Funny Cars are getting hundreds and hundreds of runs on a gear set, where before they were checking the rear end after almost every run and swapping gears after only a few races.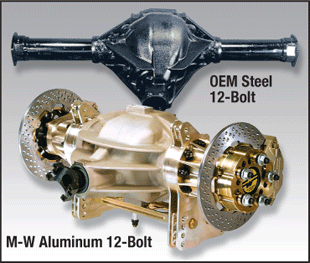 Versatility is also an important feature of the modular rear end. Through the use of different end bells, the housing can have wheel-to-wheel dimensions from about 31" to 43" and 4-link centers down to 16". This allows the housing to be used in a variety of vehicles, protecting the initial investment. Moreover, the 9" unit can be upgraded to an 11" housing using many of the same components.

Many builders have gone to using the modular housing due to fabricated housings cracking at the welds.

Add it all up and there are many compelling reasons why investing in a modular aluminum housing can pay dividends in performance and reliability.