It would seem that keeping wheels attached to race cars is of prime importance. Yet there have been many recorded instances where drive wheels have come loose; sometimes with dire consequences. When a car launches, there are tremendous forces unleashed that must be taken into consideration.
There are obviously several factors at play here, including the design and strength of the wheel studs, the quality of installation, and even the accuracy of the torque wrench employed.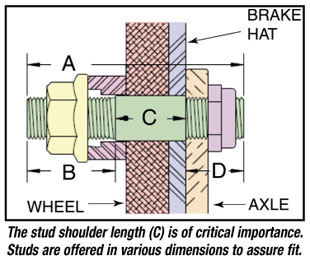 Mark Williams Enterprises is credited with developing the first drive stud setup to enjoy widespread use in drag racing, and it has proven to be very effective. Instead of using special "sleeved" lug nuts and smaller studs, M-W designed drive studs with a full 11/16" diameter shoulder that serves to accurately locate the wheel. This dramatically increases the shear strength of the stud, and eliminates bending common to smaller diameter studs.
The heat-treated chrome moly steel drive studs have a 5/8"-18 threaded end that is screwed into a similarly-sized hole that's tapped into the axle flange. A jam nut is employed to keep the stud locked into the axle. On the outboard side an aluminum washer protects the wheel's surface from marring, and special Snap-Lock" flanged steel lug nuts supply the clamping force.
For weight conscious racers the kits are available with hard anodized aluminum lug nuts —with titanium drive studs also an option.
Selecting the proper drive stud is an important step, as the drive shoulder should be fully engaged in the wheel. The shoulder should be slightly longer than the combined thickness of the brake hat and wheel flange. Needless to say, the thickness of the aluminum washer must be greater than that portion of the shoulder that extends past the face of the wheel.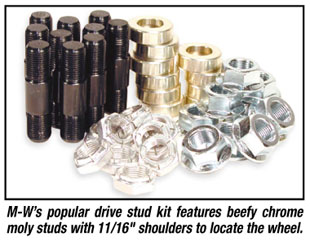 Prior to installing the wheel it's important to make sure the stud threads are free of any contamination and a thread lubricant be employed. The lug nuts should be incrementally tightened in a crossing "star" pattern (1-3-5-2-4) with a final reading of 85-90 foot lbs. torque preload. It's advisable to loosen the lug nuts and go through the cycle several times to eliminate preload scatter. It's important to periodically check lug nut tightness during the course of the season —more often for high horsepower cars.
The torque wrench itself should be checked for accuracy every now and then, as it doesn't take much to make them out of whack. Tests have shown some near-new torque wrenches to be off by as much as 30%.
Wheel stud requirements for street-driven and lower HP drag cars will differ, as 1/2"-20 screw-in wheel studs are typically employed. M-W has a full selection of sizes and styles. These are also used on most front wheel installations.
Paying attention to those seemingly innocuous lug nuts can prevent problems and keep your car on track in more ways than one.