The question often arises, "Am I better off buying a complete 3rd member assembly or should I just buy the parts, set it up myself, and save some money. Fair question, to be sure. So let's look at both sides of the equation.
To properly set up a center section you'll need a number of specialized tools, like a fixture to hold the case (M-W Bench Mule, p/n 650), pinion depth checking equipment (p/n PCD or PCMW), wrenches to hold the coupler/yoke (p/n 57488) and adjusters (p/n 57485 for 3.812" Ford case and 57490 for 3.062" and 3.250" cases, a backlash indicator kit (p/n 57499), gear marking compound (p/n 55-0002) and more if you intend to safety wire the ring gear. This can add up to a pretty sizeable investment —one that's not economically prudent unless you plan on setting up a lot of rear ends.
Then there's the matter of performing the set up. While most racers are mechanically adept and can no doubt assemble a thirdmember, there are critical clearances that must be adhered to for the sake of proper gear meshing and long-term reliability. Mark Williams Enterprises offers several "How To" videos that cover this. But there's nothing quite like the "touch" of an experienced technician who has set up literally hundreds and hundreds of thirdembers —including those for leading Pro Stock and Pro Mod racers.
What happens when there's a problem? If you're setting up a unit in your shop there are probably limits as to what you can do. Most likely you cannot walk back to the "parts department" and grab some different shims, bearings or seals. And should there be a problem with the actual gear set, etc., you're faced with shipping it back to the source. Moreover, Mark Williams personnel can perform special services, like micro-polishing the gears using the proprietary Supra-Fin™ process and/or utilize a Sub Zero Process to improve gear wear characteristics.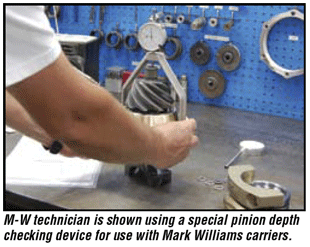 M-W technicians also safety wire the ring gear bolts, which eliminates the problem of them coming loose. With a complete M-W pro-built assembly, you can be assured that you're getting a 100% quality piece with all the right parts.

Now for the "big picture." Mark Williams Enterprises thirdmembers are priced such that the components are less than if they'd have been purchased individually. When you add in the nominal labor charge to set up a 9" Ford it's quite a competitive situation. And for the proverbial "frosting on the cake," M-W provides a free transporter case for the 3rd member and sufficient gear lube (a special SAE 85-140 oil made to M-W's specifications by Torco). Add it all up and see what best suits your situation…but chances are that getting a set-up assembly is more prudent than the DIY route.