Most of the driveshafts manufactured by Mark Williams Enterprises —the exceptions being those designed for street use— meet or exceed SFI Spec 43.1. This is an indicator as to the product's suitability for racing, and you'll find a special individually serial-numbered sticker that indicates this affixed to each driveshaft that qualifies.

First, however, a little SFI background is in order. Back in 1963, a group of pioneering speed equipment manufacturers got together and formed SEMA (then known as the Speed Equipment Manufacturer's Association). The fledgling organization undertook many tasks, including the development of an annual trade show and working with racing associations to establish product safety standards. The SEMA Foundation was formed to carry out this task and establish testing procedures, plus oversee product certification. The first few areas to be addressed were flywheels, dragster chassis, firesuits, transmission blankets and bellhousings.

After a while it was deemed best to "spin off" the specs program into its own separate, independent entity and it became the SEMA Foundation, Inc. —today known as the SFI Foundation, Inc. and headquartered in Poway, California.

Obviously, the primary focus of the SFI program is to improve racing safety. And as the years passed, an increasing number of product categories have undergone scrutiny by racers, sanctioning organizations from varying forms of competition and manufacturers. Today there are almost 50 different "spec" categories, with driveshafts first addressed in 2006.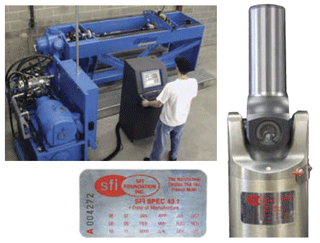 With the assistance of Mark Williams Enterprises and other manufacturers the SFI Foundation, Inc. developed a set of driveshaft standards and testing procedures. SFI 43.1 Spec qualifications include applying a 2,500 lb. load, reversing it to 1,000 lbs., and performing 25 such cycles at a rate of at least 3-5 cycles per minute. Any torsional angular deformation of the shaft is subject to certification disqualification. So are signs of buckling or cracks.
The key to building quality driveshafts is the unique computer-controlled Torsional Testing Device built by M-W. It can apply in excess of 15,000 foot pounds of static torque and perform reversing cyclical tests as well.
However, as you can tell, M-W's testing device can exert far more than what is required of SFI testing standards. The company has made good use of this by continuing to design and build driveshafts designed to withstand the ever-increasing power levels. The testing also has resulted in improvements in attachment methods, and yokes.
A perfect example of driveshaft R&D comes in the form of the new series of driveshafts manufactured from 7075 aluminum alloy and capable of safely handling extreme horsepower. The 4" diameter shaft with 1480-series U-joints is ideally suited to Pro Mod applications. It should be noted that the incredible strength of these shafts is in part attributable to the patented Accu-Bond™ process developed by M-W that has proven to be far superior to welding.
Of course, the bottom line comes from examining the critical speed rating of each type shaft (material, tube o.d. and thickness) per the required length and determining what works best for your application and budget. And look for that "Meets SFI Specs 43.1" sticker!