For a dedicated drag car that goes in a straight line it's pretty much a no-brainer that a spool is the way to go. With torque applied equally to both rear wheels, it makes for optimum acceleration potential. Of course, with both rear wheels "locked" in unison, when it comes time to make a turn the rear end is "fighting" it, as opposed to a car equipped with a differential that allows the outboard wheel to rotate slightly more than the inboard wheel and go through an arc smoothly.
However, since the overwhelming majority of cars campaigned by serious drag racers are never driven on the street, let's first focus on spools. We can trace the first use of spools in drag racing back to the mid-1960s. Back then, even Top Fuel Dragsters used differentials, albeit with special spider gears. Some racers simply welded the spider gears to permanently lock them. Of course, there was inevitable breakage that hastened the development of the spool.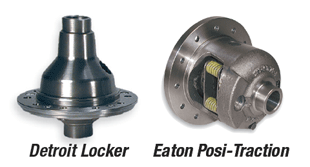 Currently, Mark Williams Enterprises manufactures three different kind of spools. While their functions are similar, the primary difference is weight. For example, a standard weight steel spool for a 9" Ford typically weighs 11-12 lbs., depending on the bore of the case, axle diameter, etc. It's made from a 4140 alloy steel forging and CNC machined. They are through-hardened using the highly regarded Austempering process for optimum ductility and reliability. The Light Weight steel spools are manufactured similarly, but they are scalloped on the perimeter and weigh over two pounds less than the Standard. Saving weight can pay dividends in performance, as less power is required to rotate a lighter mass. For even more weight savings, aluminum spools are the answer. M-W's aluminum spools are made from rugged 7075 alloy forgings, feature a ribbed design for extra strength. They weigh less than half of a steel spool for a comparable application.
For street/strip applications a locking differential is preferred. However, there are likewise a trio of options in this category. The most rugged is the fabled "Detroit Locker." It features a positive engagement mechanism and can transfer 100% of the torque equally between two wheels. "Lockers" will also compensate for differences in wheel speed when turning corners.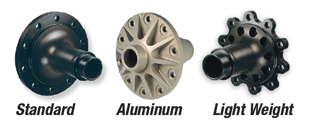 They are available for 9" Ford applications with 28, 31 and 35-spline axles. The large 35-spline setup is recommended for anyone with serious horsepower.
There are Truetrac® or Gold Trac® units that employ a worm drive to provide differentiation, but they're not nearly as suited for racing as the Locker. Also in the "more street than racing" category are the popular Posi-Traction type units that feature internal clutches. These are also referred to as "limited slip differentials." Mark Williams Enterprises carries the proven Eaton brand that features heavy-duty carbon fiber clutches. They are much quieter than Locker units and more suitable for street use (and a weekend bracket race at your friendly, local drag strip).
Whichever way you go, it's important to keep the rear end properly lubricated. M-W carries a specially formulated SAE 85-140 gear oil (made for Mark Williams Enterprises by Torco) that works superbly in both spool and locking differential applications.